iVision®: Software application example: Use of data glasses (smart glasses) for picking + pick-by-vision in the field of car window repair
iVision® patented software solutions for data glasses and smart glasses – Pick-by-Vision and order picking
iVision® is a software solution for the integration and connection of data glasses and innovative technologies to your existing IT landscape whereas larger system modifications are not necessary. As regards order picking, Pick-by-Vision, documentation, quality assurance, logistics, increases in productivity – get advice on how augmented reality can optimize your processes through data glasses and individual software solutions.
Dr. Scherb, who is the managing partner of PeRoBa® Unternehmensberatung GmbH (Management Consultancy) and the brand owner of iVision® stated on the successful milestones of this year:
"Our team and I are especially pleased to tell you that the German Patent and Trademark Office has granted us the patent on "appliances and procedures for visual technical support of manual order picking processes" this year. Now iVision® is also among the very best solutions for small and medium-sized businesses. iVision® obtained the innovation award for the best IT solutions in 2018. These are the driving powers for us to further develop iVision® and to implement clients' requirements in a pragmatic and efficient manner."
Your advantages with augmented reality + Pick-by-Vision
Optimization of your (working) processes
Optimization of processing times
Reduction of costs (especially of process costs)
Fulfillment of legal and regulatory demands, e.g., on documentation
• Increases in efficiency, e.g., in warehouses and production
Scopes of application for data glasses
Support of working processes in production and services, like, for example, optimization of time spent on diverse routes and looking for items in logistics Order picking + Pick-by-Vision with data glasses
Visualization through augmented reality technology
Documentation and backup of process results
Service and support (dual control)
Remote support
Individual integration and connection to existing solutions
Customizing at manageable costs
Implementation without changes to your system or procedural landscape
Execution of the newest innovative technologies for your success
Utilization of data glasses during order picking – we are happy to show you the advantages of Pick-by-Vision over Pick-by-Paper, Pick-by-Scan, Pick-by-Light or Pick-by-Voice directly during your working processes
iVision®: Software application example: Use of data glasses (smart glasses) for picking + pick-by-vision in the field of car window repair
Information made visible
– Augmented Reality & Pick-by-vision software
iVision® software for data glasses and smart glasses can be adjusted perfectly to your requirements and your circumstances. Individual requirements can be included and necessary additional functions can be provided out of a range of available additional functions. That definitely makes for individual increases in performance. Developments you or external providers made on your own can also be incorporated. Feel free to put our experience in the areas of augmented reality and Pick-by-Vision to good use in order to lower your costs in a sustainable manner and to optimize your processes purposefully. We will also be glad to provide you with advice on funding opportunities which can clearly reduce the initially often very high price for the integration and introduction of data glasses to your company.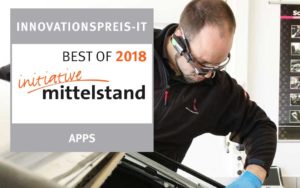 Our software was awarded the innovation award for the best IT solutions in 2018 by the Initiative Mittelstand (the small and medium-sized businesses' initiative) as it constitutes a particularly innovative IT solution, which is very useful for small and medium-sized enterprises (the actual certificate is downloadable right here in German as a PDF file).

Our software is developed according to ISO/IEC 29110:2011 and SCRUM
Learn more about how you can use data glasses, smart glasses and augmented reality in your company as well – e.g., in the order picking department. We will be pleased to inform you about all the advantages, disadvantages and costs.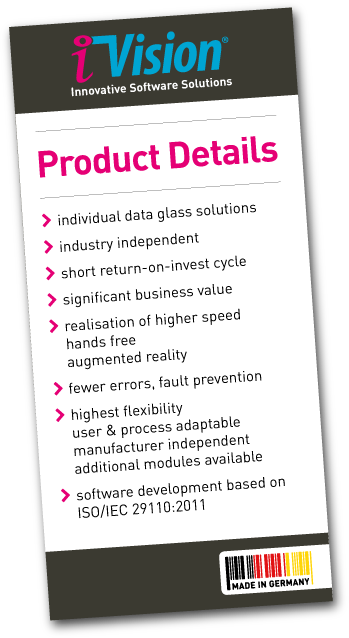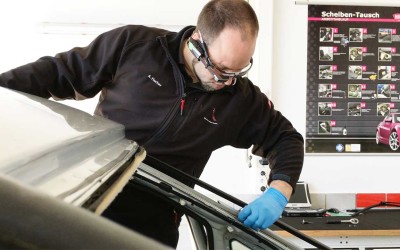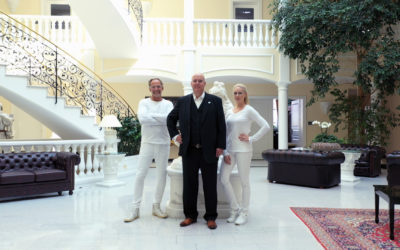 Announcement of a new iVision® Audit versionProcess-oriented remote auditingDue to different points of view, the issue of auditing is becoming more and more important both for the audited parties and the initiators of the very audits. The reasons for that consist in...
read more